Peru Travel Report Part I
Details

Erstellt: Montag, 14. April 2014 23:10
Geschrieben von Verena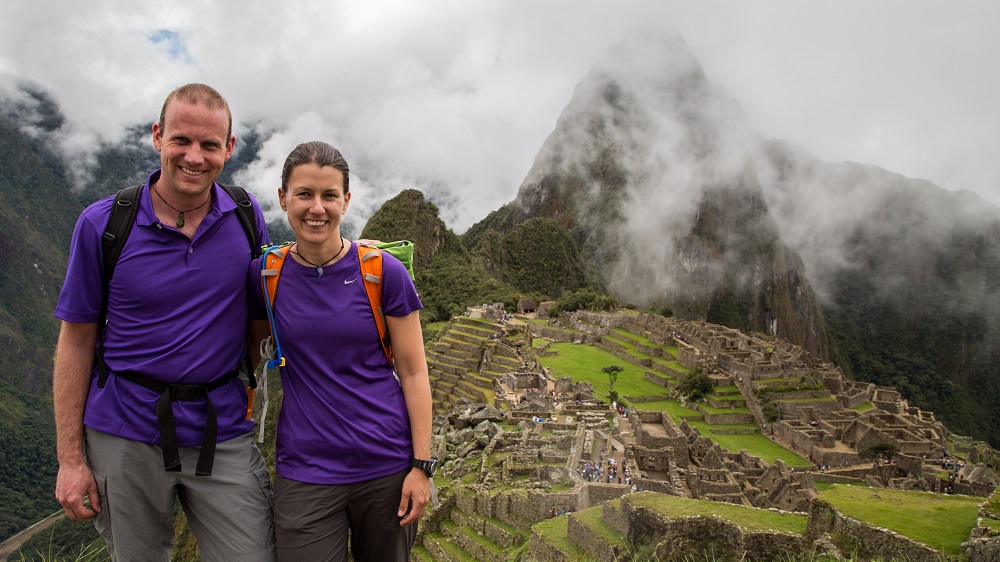 For the last three weeks, so many things happened in our lives, it is time for a first update.
Well, all started with a very sad and weird moment, when we saw the truck with all our belongings driving away. Scary, especially after all that happened with our Mustang. We'll see if everything arrives in Germany in one piece! Then we gave the keys from our 'home' back to the realtor. We had 4 really good years in that town home, leaving that and our friends behind...not a good feeling! But what can you do? New adventures are expecting us and while we were driving away in our rental-racing Prius, we decided to end Aurora time how we (almost) started it. We went to Morton's Steakhouse and celebrated our anniversary, Bruno's birthday and our going away, all at once. We had a hotel near O'Hare and the next day we were flying out to Lima. It felt and actually still feels a little bit like vacation (which it is, I know!). But I think I still did not fully realize, that we are not coming back to Chicago, but that we are actually opening a whole new chapter in our lives.
First nice experience with Peruvians was on the flight from Newark to Lima. They had so much luggage with them, that the overhead compartments were already full. They were blocking the aisle, people couldn't get to their seats, flight attendants were going crazy to get that flight boarded. I don't understand why people don't check their luggage on international flights. It is free for god's sake!
We arrived very late in Lima and a taxi brought us directly to the hotel, close to Plaza de Armas, where we started our walking tour the next day. So, what can I say about Lima? It is a big city, very diverse, pretty and ugly at the same time, it is loud and dirty, it is old and modern, for me personally a city of contrasts. I liked the area around the Plaza de Armas. colonial style, nice churches, nice museums, palm trees and flowers and some green areas in between. Then however we got on a minibus, a so called Collectivo, to drive up the San Cristobal hill, to get a view of Lima. Within minutes we left the nice center and drove through areas, I can only call slums. Very poor, very sad to see how people and children have to live there. Unfinished houses, sometimes without roofs (which is in dry Lima not really an issue...), very disconcerting.
The next day we started to explore some markets. Good that our backpacks are already full, so we didn't get tempted to buy any of the $3.50-of-course-no-fake-totally-original-whatever-brand t-shirts. Then we took one of these Touri buses and had a 2 hour tour around Lima. We drove through the different districts and enjoyed the different views. San Isidro almost looks like American cities, also Miraflores has a very nice touch with a lot of good restaurants, nice shopping areas. Barranco is called the artis, boheme district, well, to me it just looked dirty and worn. The pacific coastal area of Lima however is very nice again, with some cute beaches.
So I wasn't very sad, when we left Lima the same evening for Huaraz. Our first adventure was about to begin. We had to take the night bus. Of course we had a reservation, but when we arrived at the bus station, we were a little overwhelmed by the busy station, the many people there and I guess we had the typical clueless gringo face. But it worked out, my Spanish comprehension is actually not that bad and I could even follow the different announcements for the different buses. So lucky us, we ended up in Huaraz at 3360m at 6.30am. The air was definitely thinner and breathing was harder. For whatever reason the reservation I made the day before for our Hostal (over Skype and in Spanish) worked out as well and our taxi driver already expected us.
We spent the rest of the day exploring Huaraz and organizing the Santa Cruz Trek for the next days. Well, I guess we were a little over motivated to do that trek the very next day, but hey, shit happens. I'll tell you why in a minute.
The bus picked us up at 6am and together with 3 other people (a Swiss guy, an Australian guy and a Spanish girl) we were very eager to start the trek. First we had a 4 hour bus ride in front of us. There we passed the first high section of roughly 4800m and went down again to 3500m. We passed several beautiful lakes, different landscapes and always the Cordillera Blanca in front of us. Finally at 1pm, we arrived at a little village, the donkeys were loaded with food, tents, sleeping bags etc. and we started walking, first down then up again, a total of 15km up to 3900m to the first base camp. We were already breathing hard and were a little scared of the next day. But our guide cooked us a nice, warm and good meal and then we got told the next day would be the hardest. Uuuhhh...scary! We woke up the next morning around 4.30am, ice on our tents, nobody really slept, everybody was kind of nervous, or maybe it was the coca tea we drank the night before that kept us awake. Bruno and I started walking around 6.15am. We were the slowest anyway...3 hours later the donkeys and the 'Sherpa' passed us. I am not telling you now how fast all of them were running up that mountain. Great! We got higher and higher, breathing got harder and harder. Bruno described our movement as great-grandmother-in-slow-motion. Yepp, that was it. Approximately every 1.5h I was chewing a small handful of coca leaves. The guide gave me a whole bag. It didn't really drug me or anything, no, I wasn't flying up to the top, but I think at least it helped with the worst headache and kept me going. Same with the coca tea, it is not stronger than coffee or green/black tea, so if you really want to get high, try something different!
Finally we saw the pass we had to conquer, and the hope kind of faded. Oh Jesus, this is still far away. But with the guide's help we all made it up to the top. Not only the view was breathtaking! I mean, up at 4750m the air is freaking thin! I think if we had taken one more day in Huaraz to properly acclimatize it would have been much better, but well, we dumb damn tourists didn't do that! Every step up was torture! But at around 1.30pm we stood on top! We did it! Now it was 'just' 550m altitude difference to the next base camp. We arrived there at 4.30pm, totally exhausted, but also happy. Our tents were in a flat valley next to a river in the middle of cows. Moo! Again we got a yummy hot soup and a delicious meal and at 7.30pm we fell dead in our cozy sleeping bags. More than 10 hours of hiking and we made only 11km! Uuuhhh....
The next day was actually an easy one. We had a distance of 21km in front of us, but mainly downhill. We walked along the river that was digging its way down the valley and the landscape kept changing continuously, from boulders to almost jungle like. Very pretty. The last base camp was at 2900m in the yard of a farmer. Our tents in between chickens, donkeys, pigs and other animals. And this is exactly how our tent smelled. But who cared? Right, nobody! We didn't shower the last few days anyway because the river was simply too cold to get in there. And we new what was expecting us the next day. Hot springs to relax! Close to our base camp there was a natural hot spring next to a ice cold river. There are some terraces and with some stone moving here and there our guide could actually regulate the temperature of our 'bath'. Yeah, that felt good! All muscles to relax!
So, that was our Santa Cruz Adventure! We had superb weather, it was cold during the night, but perfect hiking temperatures during the day. Couldn't have been better. And the next day we did nothing, just walked around in Huaraz, a really nice, small Andean town, very charming compared to Lima. It is quieter and not as busy as Lima. We entered colorful markets, had sweet and delicious fresh fruit and were just relaxing from the days before. We also noticed that the people were friendlier here. I don't want to say that people in Lima (or Peru in general) are unfriendly, not at all. But we are recognized right away as Gringos, don't really know why ;-). And tourists are considered to be rich. So you have to be careful all the time, negotiate the prices with the taxis and all other merchants, otherwise you end up paying way too much. And that's what they want of course.
Our next adventure on the list was Iquitos. We went back to Lima with the bus and from there by plane to Iquitos. Iquitos is in the middle of the jungle and can only reached by plane or by boat. But the town itself did not impress me. Very busy, very loud, very dirty. There are thousands of so called Mototaxis on the street. Barely any cars.
But the Amazon itself, quite different. We had booked a lodge approximately 70km down the Amazon river. We had a nice, big room with a hammock to relax and electricity was available only from 5pm to 11pm. There were only two other couples with us in the lodge. The other 'inventory' of the lodge was Pedro, the most hilarious parrot ever. That guy was having breakfast with us, he had a drink with us at the bar and was just walking around the lodge (too fat and too lazy to fly according to the guide). And he could 'talk' for hours.
During the days we had several organized tours, a night canoe tour through the jungle (lots of spiders), a jungle walk during the day (tons of mosquitoes), bird and sloth watching in the morning (very relaxing) and the highlight Piranha fishing. We didn't catch enough for dinner, but we caught a few little ones. Impressive teeth! We had an awful lot of fun there! We also visited a native village, where we were again shocked and astonished at the same time on how people actually live there. The little village, 350 people live there, got a school for the kids just 5 years ago. Most people still cannot properly read and write. They also just recently got a water filtration system for drinking water because a few years ago the river was contaminated and a lot of people died. But other than that they are doing everything in that brownish water. They wash their clothes, they wash their pots and pans, they wash themselves in that dirty broth. We saw it all.
The other nice experience was the visit of a animal refugee. Of course set up for tourists, but hey, I had no problem donating a little money when I saw the animals. And it looked like the family was taking good care of them. We could touch and hold a Anaconda, a Sloth, a Turtle and see some Monkeys and a baby Ozelot that needed help.
The only downside where the mosquitoes. I never had such aggressive beasts around me and bug spray did not really hold them off long.
Also this adventure came to an end too fast and we were traveling further south to Cusco. This was the first time, we experienced a real south American travel day. We sat already in the plane, and continued to sit there and nothing happened. About an hour later they told us to leave the plane, but didn't bother to tell us why. Again an hour later or so they made an announcement that they will make another announcement in a few minutes to tell us what is going on. It was in Spanish, and while I was thinking about if I understood it right (does such an announcement even make sense?) people around me started laughing and shaking their heads. Yeah, I got it! 3 hours later we finally were onboard the plane to Lima, the plane to Cusco of course long gone. But re-booking went smoothly and we actually arrived in Cusco the same evening. The following day we explored Cusco and some Inca ruins there. Some of you could already follow Bruno's excitement about the 12-sided-cornered or whatever stone. :-)
A visit of the "Valle Sagrado" (Sacred Valley) brought us some more insight into the old Inca culture. We liked Ollantaytambo so much, that we actually booked a Hostal there for three nights. Ollanta is a very charming little town, all build on old Inca ruins with very narrow alleys and some really nice Inca ruins. What I really like about Ollanta is that the town looks actually 'finished'. It is a little difficult to explain, but what you notice right away here in Peru is that all houses look 'unfinished'. Very often only the front is painted whereas you can still see the bricks on the other sides. Also there is no roof on top, but it looks like they are just building another floor on top. This open floor is mostly used for drying laundry.
We also used Ollanta as our starting point for Machu Pichu. I've been there before 8 years ago, and I have to be very honest, if it wouldn't be for Bruno, I probably wouldn't go there again. Yes, it is a once in a lifetime experience (for me twice...), Machu Pichu is cool, yes, even though they still don't know much about the whole purpose and function of that place, it is kind of a must see. A very expensive must see. You can live relatively cheaply in Peru. Hostals, especially backpacker ones you can have for $10-20 per night. Also food is relatively cheap, if you don't eat in some tourist trap restaurants.
The Machu Pichu experience however costs us $420. In one day. The entry to Machu Pichu itself is about 130 PEN which is roughly $45. Ok, no problem. This is for culture preservation. But the train company to Aguas Calientes (you can reach that artificial town which is the 'entry' for Machu Pichu only by train) and the bus company (taking you from Aguas Calientes to the top of the mountain) they take the money from the living. And I am sure that this doesn't go in any preservation projects. This is just damn expensive. But ok, we are dumb enough to pay it!
So, it is 4.30am and we are heading to the train station. The train leaves on time and we are heading very slowly along the Rio Urubamba through different valleys to Aguas Calientes. It is cloudy and rainy. Great! $420 for a foggy, not visible ruin! We tried to stay positive, put on our rain coats and for the first time our rain pants. (Oh, I remember, I used them already as mosquito protection in the jungle instead of non-working bug spray.) At least we stayed dry. Not like many other tourists coming up there with nothing. They had to buy fancy and expensive ponchos. Hi hi!
The first two hours we had a guide telling us a lot of interesting facts, and probably some myths, too. It was still pouring down, sight was, well, shitty to be honest. Towards the end of the tour it started clearing up. We could finally see the whole construction and even the sun was coming out! Yeah! Positive energy! We hiked up to the Sun Gate to get a different view of the ruins. When walking down, it started raining again. All right, coat and pants on again! We could see the tourist queue for the buses from top. Why are you leaving? Because of a few drops? An hour later the sun sneaked out again and we finally could see Machu Pichu without thousands of tourist. I cannot remember these masses of people 8 years ago. But according to our guide it got really bad the last 5-10 years. People wise it is already restricted to 2500/day. Now they are even thinking about limiting the time to 3h. Thank god, we had the whole day!
Aguas Calientes however totally changed the last 8 years. It is still ugly, but there are a lot of (expensive) restaurants now and other 'tourist attractions' like markets. But I was happy that we were going back to Ollanta that night!